The Guam Visitors Bureau's Membership Division maintains membership relations that will strengthen the bond of partnership between GVB, as a government office, and the private sector. This public-private partnership seeks stakeholder support for the industry that accounts for more than 60% of Guam's economy as well as to take part in GVB promotions and programs.
---
Why Join GVB?
Discover the benefits of connecting community with tourism. Get the latest information on leads, listings, referrals, marketing tools and so much more.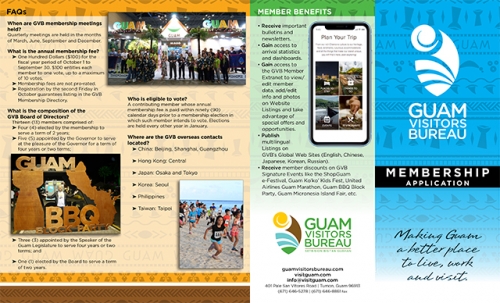 Download Membership Application (fillable PDF)



Membership benefits include:
 
Networking opportunities in Guam's largest industry.
Voting rights to elect GVB Board of Directors (4 seats out of 13).
Involvement in GVB's standing committees.
Arrival statistics, research information and industry updates.
Annual Reports and Membership Directory.
Exposure in GVB's Global Websites (U.S.A., Japan, Korea, Taiwan) in multiple languages.
Exposure in promotional materials and publications.
Display of company brochures at GVB's offices on Guam and overseas.
Exposure to travel writers, visiting dignitaries and special groups (depending upon requirements).
Dissemination of member information at international forums. (Certain guidelines apply in the delivery and handling of promotional material.)
Participation in marketing programs:

- Local military travel-related shows as approved by military guidelines.
- Listing in certain GVB collateral materials.
- GVB-sponsored product seminars and workshops.
- Participation in mailing campaigns.
- Advertisement opportunities in GVB communication programs.

VIP Greeting services.