(Tumon, Guam) Guam Visitors Bureau (GVB) and the Consulate General of the Republic of Korea in Honolulu met yesterday to discuss potential new air routes for Guam and innovative marketing strategies for the benefit of Guam and South Korea.
As the Consulate General in Honolulu oversees the entire region — including Guam — Consul General Lee Seo Young and GVB President & CEO Carl T.C. Gutierrez spoke about the strong alliance between South Korea and the United States, and the rich history that Guam, Honolulu, and South Korea all share. Mr. Lee stressed the importance of maintaining a close partnership with Guam, especially for the continued safety and security of Korean visitors.
Mr. Lee recognized the excellent cooperation between Mr. Gutierrez and Head of Mission Mr. Kim during Typhoon Mawar, demonstrated by their swift action to provide free transportation, hotel, and food assistance to tourists in the critical days following the storm.
Mr. Gutierrez explained the latest GVB programs to highlight Guam's people, natural beauty, and culture, and praised Mr. Kim for immersing himself in the island's culture since he took his post on Guam in 2021. Mr. Gutierrez also emphasized the need for new air routes that connect South Korea to Guam and other Micronesia islands, such as Palau and Saipan, and asked for the Consul General's support.
"I am very appreciative to all Korean visitors who have led the way in Guam's tourism recovery since COVID-19. So far this fiscal year, they make up about 61% of the tourists to Guam," said GVB President & CEO Carl T.C. Gutierrez. "With the support of Consul General Lee in Honolulu and Head of Mission Kim on Guam, we can continue boosting Korea arrivals and eventually provide new air routes for travelers in our region."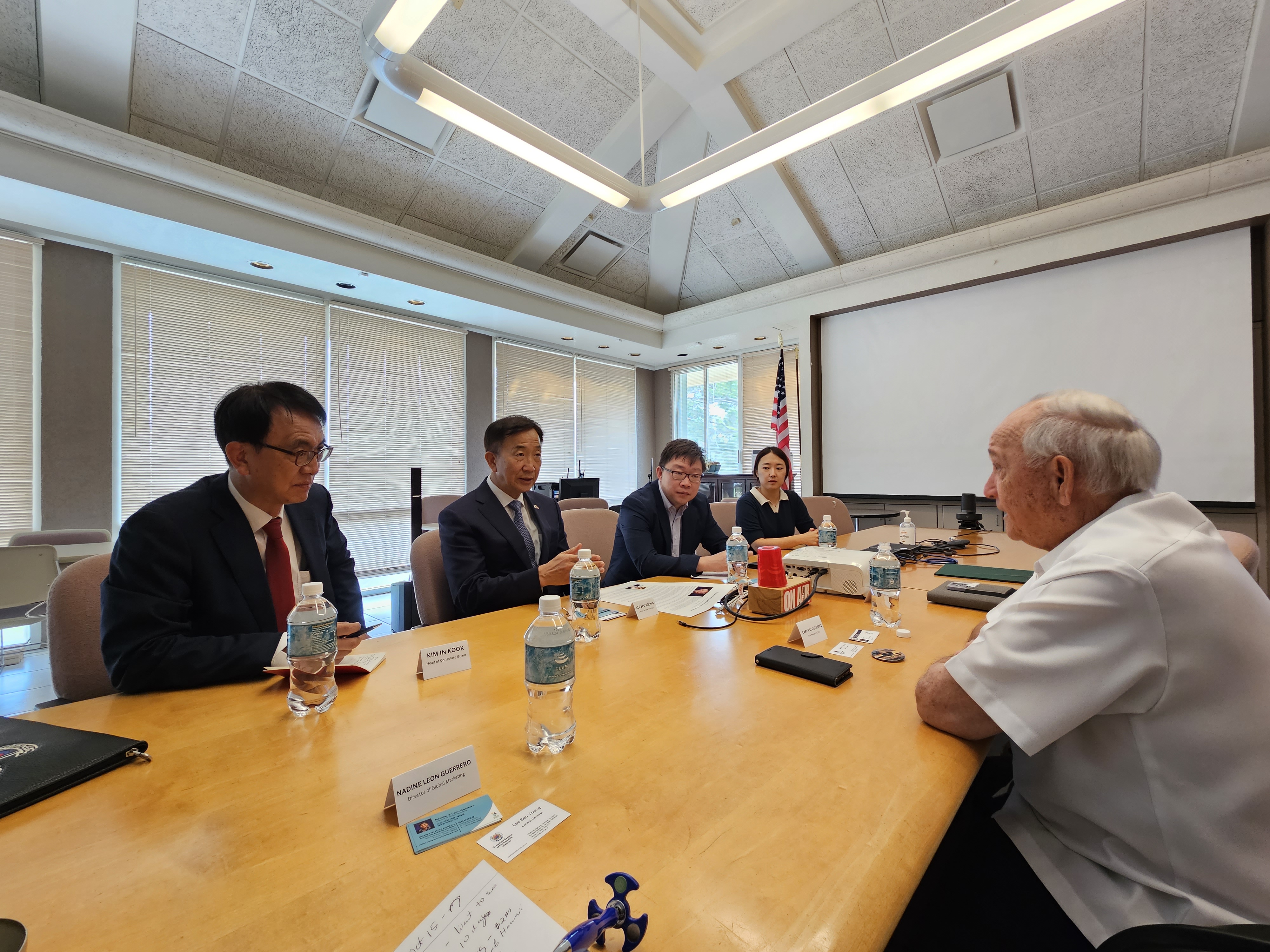 Consul General from Honolulu Mr. Lee Seo Young and GVB President & CEO Mr. Carl T.C. Gutierrez hold discussions on Guam's tourism and economic development. (From left to right: Head of Mission In Kook Kim, Consul General Lee Seo Young, Consul Shin Dong Min, Consular Assistant Jeong Seung Won, and GVB President & CEO Carl T.C. Gutierrez)